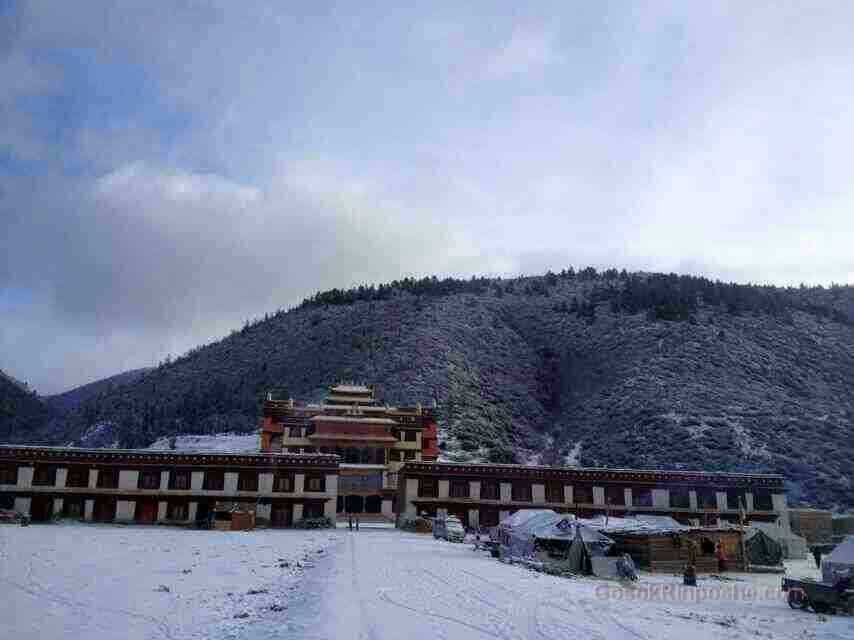 Reconstruction of Kham Golok (Gönsar) Monastery
1. Current Situations (2009)
There are bigger plans in Rinpoch's mind. Golok is a very poor region in terms of living and medical conditions. Many families have children who lost both parents. Therefore it is also our teacher's desire to establish an elementary school to receive and provide orphans with needed education, and a hospital to alleviate the suffering local patients. Nevertheless due to lack of funding, these good wishes are yet to be gradually fulfilled. The priority is, as our teacher has indicated, to sustain Sangha education, and therefore the first thing is to build the new monastery. The first phase of the entire construction will include the main hall and its wings, the academy building and monk's resident housing. An estimation of cost for this will be 4500,000 New Taiwanese dollars (approximately US $155,000)
2. The Sponsorship
The merit from sponsoring the building of a Buddhist monastery is inconceivable. As the Buddha says in the Lotus Sutra, one will gain ten great merits through sponsoring the building of a monastery:
1. Diminishing and eliminating all non-virtuous karma accumulated in beginningless life times.
2. Being protected by heavenly beings, and reverting unfavorable situations.
3. Removing of obstacles and avoiding sufferings caused by revenges from your previous hatred relations.
4. No evil beings and monsters will be able to assault you.
5. You will be freed from affliction and ignorance.
6. You will enjoy plenty of cloth and food.
7. Your speech and actions please both human and heavenly beings.
8. You will increase the two provisions of wisdom and merits.
9. You will gain a supreme rebirth, born with a good looking and endowed with talent and fortune.
10. You will be able to be born in a country where you can listen to the Dharma, and (eventually) you will be able to quickly achieve the Buddhahood.
We are looking forward to your enthusiastic sponsorship to this meaningful project! For donations, please use the following banking information:
Postal transfer account: 42240331
http://www.kunphen.com/en/html/2015/Kham-Golok_0425/94.html